Efter att ha placerat både högtalarna och soffan på bästa sätt så är vi nu redo att ta tag i själva rumsakustiken. Detta är ganska enkelt gjort och en av de första åtgärderna är att finna förstareflexerna, vilka är de reflektioner som når dig omedelbart efter det direkta ljudet. Dessa är dåliga eftersom våra hjärnor inte kan särskilja dem från det "sanna" ljudet och då blir slutresultatet oprecist och rörigt – inte klart, skarpt och rappt. Vad du däremot inte vill göra är att täcka alla väggar med ljudabsorbenter för då tar du bort de goda ekona / reflektionerna – de som skapar en rumskänsla. De goda reflektionerna är de som kommer efter förstareflexerna och de skall tillåtas finnas där ty dessa kan hjärnan särskilja från det direkta ljudet.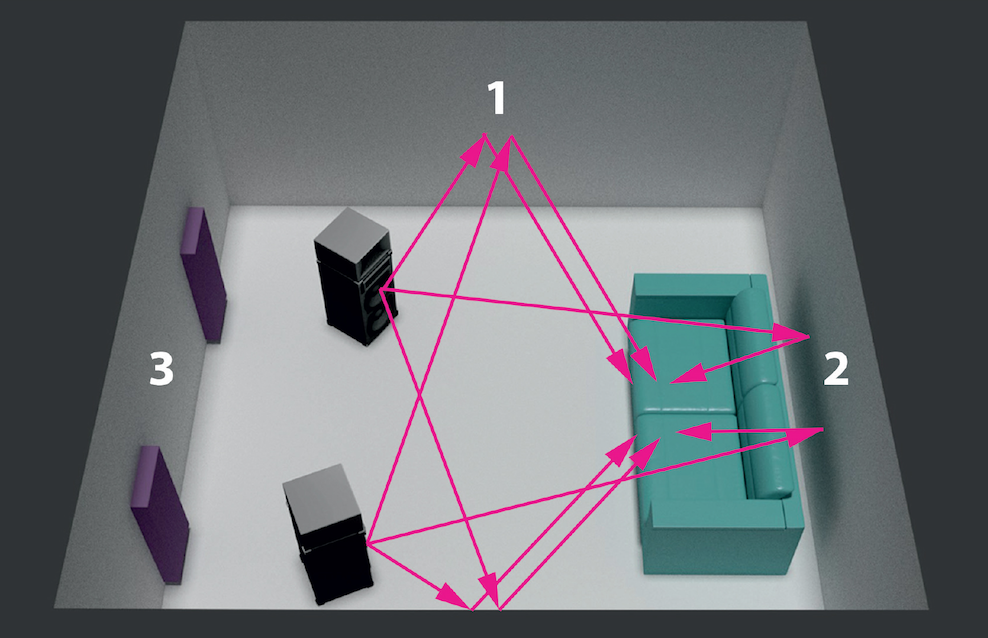 "1" och "2" i bilden ovanför (klicka på den för förstoring) är typiska områden för förstahandsreflektioner. Nummer "3" är ett bra område för bredbandsabsorbenter rent generellt.
Så hur hittar man förstareflexerna? Sätt dig i din sweet spot och be en vän att ta en spegel och placera den på väggen bredvid en av högtalarna i den höjd som ditt huvud befinner sig i. Därefter går han/hon sakta emot dig och låter spegeln följa väggen intill dess att du ser den första högtalaren i spegeln och då görs ett litet märke på den punkten. Så fortsätter din vän sakta framåt med spegeln på väggen intill dess att du ser högtalare nummer två och så markeras även den punkten. Därefter gör ni precis likadant på andra sidoväggen.
Dessa punkter skall så förses med ljudabsorbenter, med minst 50 cm material på var sida och ovanför/under varje punkt. Samma metod används för att finna förstareflexerna både på golvet och i taket. Även dessa områden bör behandlas och vad gäller taket så går det alldeles utmärkt att hänga SOFSCI-paneler där också. Kanske med en fin molnbild eller liknande? Att montera ett helt undertak avråder vi ifrån vad gäller lyssningsrum ty då förstör man ljudbilden, enligt resonemanget ovan. För biorum är bilden en annan då elektroniken och alla högtalare i dessa rum förmår skapa en spatial känsla ändå. marks these spots on the wall and then you do the same on the other wall. These spots are then treated with absorbing material, at least 50 cm on each side and above/be- low of every trouble spot. This same method can be used to nd the rsthand re ec ons both on the oor between you and the speakers and in the roof. These areas should be treated as well and when it comes to the ceiling you can hang SOFSCI panels quite easily there as well. Maybe with a nice cloud image or similar?
Om din soffa står nära en bakvägg, som på bilden, så är även detta ett område som skall förses med ljudabsorbenter. En stor bokhylla med olika stora böcker i fungerar bra där också, eftersom de diffuserar reflektionerna. Hertz kan också enkelt monteras i taket, vilket ju är en stor källa till förstareflexer. Med vårt takmonteringssystem så kan du fästa en absorbent med bara en skruv och själva fästet är dolt.